I found another idea to use for rewards. This is something I think my students would love.
I was reading
Simply 2nd resources
and they had some great ideas on making scratch tickets for the kids to earn. They scratch off the coating and find the reward. I have never seen anything like this and it looks easy. (The only thing is, I am going to have to call them something besides lottery tickets. That could get me in trouble if someone said I was letting the kids gamble. I am sure that would happen. Because of gambling issues many have to call 6 sided cubes with numbers on them random number generators instead of dice. Hmmm.........Have to think on that one.)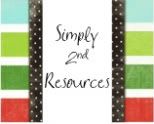 So many ideas, so little time. :0) Thanks for sharing Simply 2nd.
(Please don't send me nasty notes saying you don't believe in giving rewards. We can agree to disagree. I respect your opinion, please respect mine.)